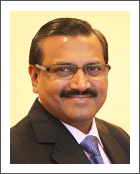 Dr. Uday Salunkhe is the current Group Director of one of the top B Schools in India, the Welingkar Institute of Management Development & Research, in Mumbai and Bangalore. A mechanical engineer with a management degree in 'Operations' and a Doctorate in 'Turnaround Strategies', Dr. Uday Salunkhe has more than 12 years of experience in the corporate world. He worked with Mahindra & Mahindra, ISPL and other companies before joining Welingkar in 1995. Subsequently, Dr. Uday Salunkhe's inherent passion, commitment and dedication toward the institute led to his appointment as Director in 2000, only five years after he had initially joined Welingkar.
Receiving recognition at even the international level, Dr. Uday Salunkhe has been invited as visiting faculty to the Harvard Business School and the European University in Germany and has also delivered seminars at the Asian Institute of Management, Manila. Dr. Uday Salunkhe won the award for 'The Young Achievers Award' in the field of Academics by the Indo American Society and was also recognized for his excellence and contribution to management education. The 12th Annual Convention on Leadership has conferred the 'Professor Dharni Sinha Memorial Award for Excellence in Management Education' to Dr. Uday Salunkhe for his outstanding work.
Dr. Uday Salunkhe is currently the Chairman of the Ad-hoc Board of Studies in Management Courses of the Mumbai University as well as Chairman of the Local Management Committee of the Association of Management Development Institutions in South Asia (AMDISA) which is an initiative by the South Asian Association of Regional Cooperation (SAARC). Dr. Uday Salunkhe took over as the President of Association of Indian Management Schools (AIMS), which is the 2nd largest body of management schools in the world with over 500 members, for the year 2007-2008.
Dr. Uday Salunkhe has initiated several international partnerships for Welingkar with universities across the globe which helped facilitate faculty & student exchange programs, study internships in the USA, UK and parts of Europe that included Sweden, France etc. Dr. Uday Salunkhe has also been part of the official bodies of the University and the Directorate of Technical Education with an aim to improve the quality of management education that is prevalent at the moment.
In February of 2011, the Economic Times did a story on how students from non - IIM institutes like Welingkar were receiving prestigious offers from companies in the financial sectors and the IT sectors. WE School is ranked 16th in the Economic Times – India Inc's Preferred B Schools survey, 2011. Dr. Uday Salunkhe said that India Inc. was back on its feet. Sectors like IT, ITeS and finance were getting a lot of international business, which was creating opportunities for students.
A man who has had his work influenced by Jack Welch and Arya Chanakya, Dr. Uday Salunkhe is both a leader and visionary who has contributed to Welingkar and its development for over a decade. It is because of his vision and result oriented thinking that Welingkar is now a name to reckon with, not only in India but also at a global level.