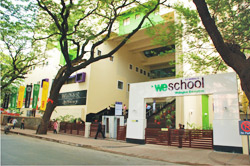 In WeSchool's latest accolade, Welingkar was ranked 10th in India by the Times of India B-school survey in 2015.
When it comes to B-schools, Welingkar has received several awards in leadership, innovation and industry interface. WeSchool always gives benefits to the new age students by launching new courses under the guidance of Dr. Uday Salunkhe.
In 2010 and 2013, WeSchool was awarded with the title of 'BMA Outstanding Management Institute of the Year Award' and in 2015 WeSchool won the 'Best Management Institute of the Year' award.
Welingkar Institute also won the JJ Irani Award as the Best Management Institute in 2006. Over the years, Dr. Uday Salunkhe has established several international partnerships for Welingkar with universities across the globe to facilitate faculty & student exchange programs, study internships in the USA, UK and parts of Europe that include Sweden, France etc.
In 2008, WeSchool won the Dewang Mehta Business Award for the following: -
Business School which encourages Innovations that lead to better development
Business School Leadership Award
Business School with Best Academic Input (Syllabus) in Marketing and Retail / Services
WeSchool was ranked 16th in the Economic Times India Inc's Preferred B schools survey in the year 2011. In Feb of 2011, Economic Times did a story on how students of institutes like Welingkar, were receiving prestigious offers from companies in Finance as well as IT sectors. The programs started by WeSchool are:
Post Graduate Diploma in Management in Business Design (PGDM-BD)
Post Graduate Diploma in Management in E-Biz
Post Graduate Diploma in Retail Management
Post Graduate Diploma in Healthcare Management
Post Graduate Diploma in Rural management (emerging economies)
Post Graduate Diploma in Management (Executive)
Post Graduate Program in Entrepreneurship
Post Graduate Program in Telecom Management (PGPTM) and Certificate Course in Telecom Marketing & Management (CTMM)

WeSchool tracks the needs of the current economy and launches courses that are always in sync with market's demand. Our key philosophy is to provide skilful training and knowledge to the students.